Medium
Cody Schulz, Homeland Security Director
---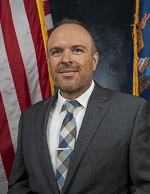 Cody was appointed the Homeland Security Division Director and State Homeland Security Advisor on March 1, 2018. He previously served as the Department's Business Manager and Disaster Recovery and Mitigation Chief. Cody has led financial and programmatic recovery operations during 14 Presidential declared major disasters and numerous state declared emergencies.
In addition, Cody was elected to the Morton County Commission in 2012 and re-elected in 2016. He was Chairman of the Commission in 2016 and 2017, during the historic Dakota Access Pipeline (DAPL) protest. Morton County has a population of 32,000, spans approximately 2,000 square miles and employs nearly 200 staff.
Cody was born and raised in rural New Salem where he gained his love for all things outdoors. It was here where he also nurtured an entrepreneurial spirit, starting a business at the age of 16. With his cousin, Cody started S & V Salvage Company, a small business that purchased and processed recyclable materials. After receiving his associate's degree, Cody went to work for Cellular One, working in sales and service during the peak of the analog to digital conversion.
Cody earned an associate's degree in Business Management from Bismarck State College, a bachelor's degree in Business Administration from Dickinson State University and a master's degree in Business Administration (MBA) from the University of North Dakota. 
Cody enjoys hunting, fishing, baseball, and spending time with his niece and nephews. He is also an avid reader, particularly of history. He also enjoys restoring and driving classic cars.
Dan Donlin, State Radio Director
---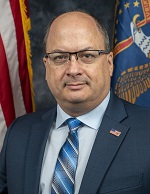 Dan Donlin was appointed the director for State Radio on June 18, 2019. He manages about 30 full-time employees and directs the department's daily operations.
After three decades of service, Donlin retired from the Bismarck Police Department in July 2018. During his career, he worked on patrol as an officer, a sergeant and as a lieutenant. Donlin has worked in the department's Investigations Section as a detective and sergeant, specializing in personal and property crimes. He also served as the director of the Police Youth Bureau, as well as the department's public information officer. Donlin's career also included serving 15 years on SWAT and as the deputy chief in the Field Services Division and the Support Services Division. He was promoted to chief of police on Jan. 20, 2013.
Prior to become the State Radio director, Donlin was employed by the North Dakota Department of Transportation as a safety liaison officer for the agency's Safety Division.